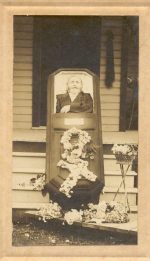 June 14, 1908
Passage of an old Resident. Judge Frank Butler Joins Silent Majority, Frank Butler who died at Falls City Sunday afternoon, was an old and respected resident of Polk County, Oregon. Mr. Butler was born at the Hall, Brentwood, Essex, England, July 7, 1842. On April 27, 1871, he married Eleanor Field Butler of Royston England. Three children were born to them in England, two sons and a daughter; later the daughter died and was buried in England. In the year 1881 he, with his wife and two sons came to Oregon, and lived in Corvallis for one year, and then removed to Polk County, Oregon, and ever since have resided on their estate known as Oakhurst, a large part of which is in Falls City. Last summer Mr. Butler built a fine large house in Falls City and moved into it last October. There survives him two sons, Dr. Arthur Butler of Washington, D. C., and Randolph, of Falls City, and his widow, Eleanor Field Butler.
Mr. Butler was an Episcopalian, and lived every day of his life up to the broad doctrine of Christianity lais down by Christ, man's humanity to man. He was a great help to those in Trouble and ever ready to assist the needy. He was an active republican in politics, and had filled various offices in Polk County being county surveyor, and a justice for many years. He was the real founder of Falls City, and the esteem in which he was held was shown by the closing of nearly every place of business during his funeral. His long and busy life was well spent, and while his neighbors and friends drop the silent tear of sympathy for his loss, the angel of eternal life stands at the pearly gates with a crown of eternal life, and will say, "Enter into your eternal rest."
A hand written notation on the funeral picture (Frank in his coffin propped up against the house) and obituary read: "I bet the (illegible) saloon and Red Kate's place did not close"!
Tombstone reads: "Frank Butler Born 7/7/1842 Died 6/14/1908; Eleanor Filed Butler Born 2/7/1842 Died 4/17/1927; I have fought a good fight, I have finished my course, I have kept the faith 2nd Tim. 4 - 7"