&nbsp>
This wonderful photo of Charles Wesley Pace, Sr. and much of his family, was probably taken in 1906-07 in Page County, Iowa. Name labeling is current. For the original scan without labeling (about 1 meg.), Click here.
Back row from left are his sons Young Farris Pace and Charles Wesley Pace, Jr. The next individual is Orville Davison, son of Charles Sr.'s daughter Mary who died in 1881, and nephew of Nancy Ann Davison. Back center is Charles W. Pace Sr. The two adults in the back row right are Charles' son Edward Alexander Pace and his wife Nancy Ann Davison. The boy next to them is probably Frank Valentine, grandson of Edward, who grew up in their home after his mother died. He would have been eight years old when the photo was taken.
Front row from left, the lady is probably Young's second wife Martha Ann Carmichael Garrison, identification depending on the date of the photo which will be discussed in the next paragraph. The next lady is possibly Willametta Pace, daughter of Young F. Pace by his first wife Matilda. She would have been 21 years old at the time of the photo. The boy behind her is Bruce Clifton Mason, grandson of the Reeves, whose father died when Bruce was two years old. Front row middle is Charles Pace, Sr.'s son Franklin Green Pace, and the remaining two adults are Norval Reeves and his wife Susannah Pace Reeves. The photo contains all of Charles W. Pace, Sr.'s children except Rose who lived in Colorado at the time and probably didn't make the trip back to Iowa, Mary who died in 1881, and Florence who died in 1902. Fortunately, we have several photos of Rose which are shown further along in this album.
The photo was probably taken in Iowa between 1906 and 1908. Charles W. Sr.'s third wife Martha Heffley died in 1906, as did Charles W. Jr.'s first wife Anna Humphrey, so both would have been widowers and neither wife is in the photo. Orville Davison lived in Oregon at the time and may have travelled to Iowa with Charles Sr. and Jr. All of the other individuals were Iowa residents which suggests that Charles Sr. and Jr. (both lived in Colorado at the time) and Orville Davison were the visitors. Charles Sr. died on July 13, 1908, which would be the limiting factor on the date of the photo. Young's first wife died in 1903 and he remarried in December, 1905, in Iowa, so if our dating of the photo is correct, the lady in the front row left is likely his second wife Martha. Bruce Clifton Mason, the young man at center left was born in 1895, so he would have been about eleven years old at the time of the photo.
The photo below was taken at the same time as the first photo as can be seen from the clothing, and was obtained from a different source. This picture was labeled by Phyllis Mason Hill, granddaughter of Susannah Pace Reeves, and confirms other sources for the same individuals.
---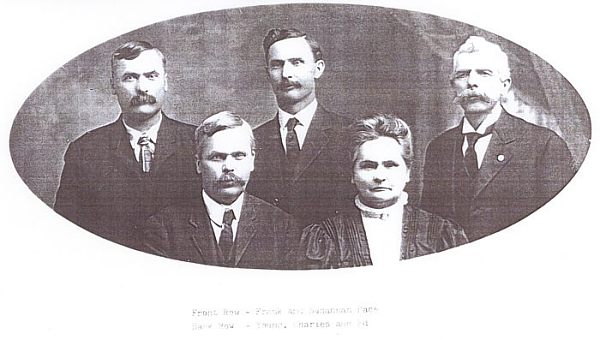 ---
The Eight Children of Charles Wesley Pace, Sr.
&nbsp

Edward Alexander Pace,
1847 - 1926
(Edward's Family)

Franklin Green Pace,
1852 - 1918

Mary Nervesta Pace,
1854 - 1881
(Mary's Family)

Young Farris Pace,
1855 - 1912