Unidentified Davison/Pace Photo
Photo courtesy of Janice Kendrick
&nbsp
We've made progress!
The picture below was found in the family memorabilia of a descendent of Mary Pace Davison, eldest daughter of Charles Wesley Pace, Sr. and first wife of Josiah Davison. The label on the picture is simply "Pace family".

We initially thought the photo was of Charles Wesley Pace, Sr., his wife Elizabeth, and members of his extended family, taken in about 1875. However, our clothing and fashion expert tells us that the clothing worn in the photo is circa 1890 to 1910. We haven't been able to place members of the Charles Pace family who would be appropriate for later time frame, and Charles' wife Elizabeth Farris Pace died in 1889.

However, a recent photo contribution by Jerry Hamm, which will be evaluated further on in this page, has caused us to rethink the individuals and realize that this is primarily a Davison photo.

The Hamms, Davisons and Paces lived in Page and surrounding counties in the mid to late 1800's, most near Clarinda, Iowa.

Four photos are presented below. You can click on any of them to get a larger image. I (Jim Pearce) will do the narrative in first-person, since there is some speculation and my fellow researchers might not agree with everything I contend.

---

This photo, recently sent to me by Jerry Hamm, grandson of Ethel Davison Hamm and Harley Hamm, identifies the individual on the far left as Ethel, Harley on the far right, and their two boys in the front, Harold (left) and Leonard (right). The boy's ages (about 4 and 6) would date the photo at about 1918. Ethel would have been 27 years old.

The elderly couple would be Josiah Davison, then 68 years old and a long term invalid, and behind him his second wife (Ethel's mother) Mary Francis Harris, then 56 years old. The 1920 census of Page County, Iowa, shows the four Hamms and two Davisons living together.

I have looked very hard for Davison/Hamm relatives in Page County and otherwise that would fit the extra lady and two girls, and haven't found any. The 1920 census shows the Walter Beringer family living next door to the Hamm/Davisons, with Walter's wife Nellie (29 in 1918) and their two girls Leona and Winona (respectively 7 and 5 in 1918). Since farm families were often very close with their neighbors, my best guess is that the three extra females are Nellie, Leona and Winona.

---

Back to our "mystery photo"...... I originally thought the men and women, front row left and right, were husbands and wives due to their apparent ages. With Jerry's photo above, and the knowledge that Josiah Davison and his second wife Mary Harris were thirteen years apart in age, I now believe that the couple and baby in the center of the front row are Mary Harris Davison (abt 29), Josiah Davison (abt 42), and their only child Ethel (abt 1). The strong resemblance and apparent age of Josiah and Mary in both photos to me is compelling. Baby Ethel's age would date the photo at about 1892, which our fashion experts tell us corresponds to their dress styles.

I did several spread sheets from the Federal Census of the descendants of Hardin Davison, Josiah's father, ( by family and by date of birth ) and found only one female who was about five years old in 1892, the apparent age of the young lady at far left with her hand on the mans shoulder. She is probably Cleona Pearl Davison, born 1888, the daughter of Isaac Davison (26) who I believe is the man in the front row left. He had one other daughter, Ruby, 2 or 3 years old in 1892, who would be the child on his lap. His wife may be in the back row.

The lady to the right in the front row is probably Nancy Ann Davison Pace, about 40, Josiah's sister. She lived with the Davison families while her husband Edward Pace was off seeking his fortune in Colorado. There is a definite resemblance to the Nancy Ann Davison in the Pace family photo below. she had the following underage children in 1892 - I will speculate on their location in the photo:
Asa, 3 (or 2), the baby on her right
Ersa, 9 (or 10), the girl on her left
Myrtle, 13, the girl right behind her
Harley, 16, back row, far left
Charles, 19, back row, third from right
Alice, 22, middle of back row; this could be Isaac's wife Martha, but she sure looks like a Davison.
That leaves the gentleman with the center part in his hair. Possibly Erastus Davison, who has yet to marry, and the boy in the back row right, unknown.
| | |
| --- | --- |
| | This is a photo of the Charles Pace, Sr. family in about 1906, and is included to show the strong resemblance of Nancy Ann Davison Pace, Josiah's sister, to the individual I speculate is Nancy Ann in the "mystery photo" above. |
| | |
| --- | --- |
| | The elderly lady to the right in this photo, taken about 1935, has been positively identified as Josiah's second wife Mary Harris Davison. She died in 1940. |
---
This is a composite of the three individuals taken from the photos above who I contend is Mary Harris Davison.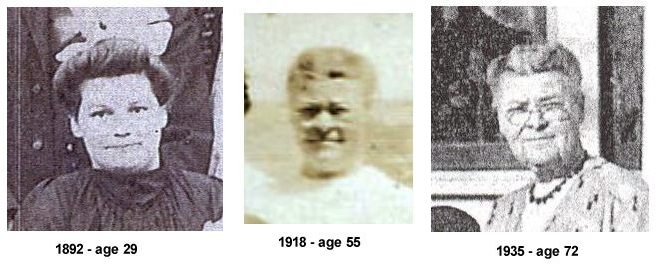 I acknowledge the speculation in identifying individuals in the "mystery" photo, and I hope presenting the photos in this way will encourage others to consider flaws in my arguments, other possibilities, and certainly other photos of these individuals that would confirm or deny my identifications.
We hope to hear from you.
Jim Pearce, webmaster
jpearce@quiknet.com
---
---